Past Projects: Education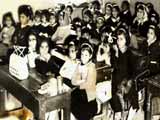 For Sima, education means liberation, defeating extreme poverty and oppression, challenging patriarchy, classism and dictatorship, and seeking intellectual challenge for growth.
Driven by her curiosity, Sima has persisted in educating herself despite many obstacles and she lives the idea that challenge is an opportunity for growth.
Sima has always held education as a strong life goal from the time she was a child. In 1991 she studied English as a Second Language and enrolled in classes at Langara College. She later transferred to Simon Fraser University (http://www.sfu.ca) where she received her Bachelor of Arts degree. She continued at SFU as a graduate student and in 2001 she received her Master of Arts degree in Linguistics. The dedication on her thesis reads: "To my mother and Arnold, the two who most inspired me."
More photos
...