Sima & Arnold Meet
When Arnold embarked on his explorations he soon realized that he longed for a partner with which to share his future life. It was very important to him that he find a partner whose background was different from his own. He looked to the Internet (http://www.dreammates.com) to find her.
At the same time, Sima too was longing for a partner with whom to share her life. She decided to try Internet "dating" and soon found Arnold. They began some very serious and thoughtful email conversations, discussing such topics as war and the causes of war, racism, and religion. Both were intrigued by the challenging and intelligent questions and answers the other wrote.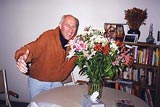 Soon after, in the fall of 1999, they agreed to meet. Arnold flew down to Vancouver from Alaska, where he was residing at the time. Sima was busy marking linguistics papers so Arnold helped her all through the night.
That winter they flew to Fairbanks, Alaska together. While Arnold was already emotionally open and convinced that Sima was the one for him, Sima was more cautious. But during those short winter days and long nights they grew to know each other better and Sima slowly began to open up to Arnold about herself, her family, and her experiences. They continued their serious conversations about various social issues and found that even though they did not always agree, they each respected and were open to learning about the other's perspective and experience.
More photos
...